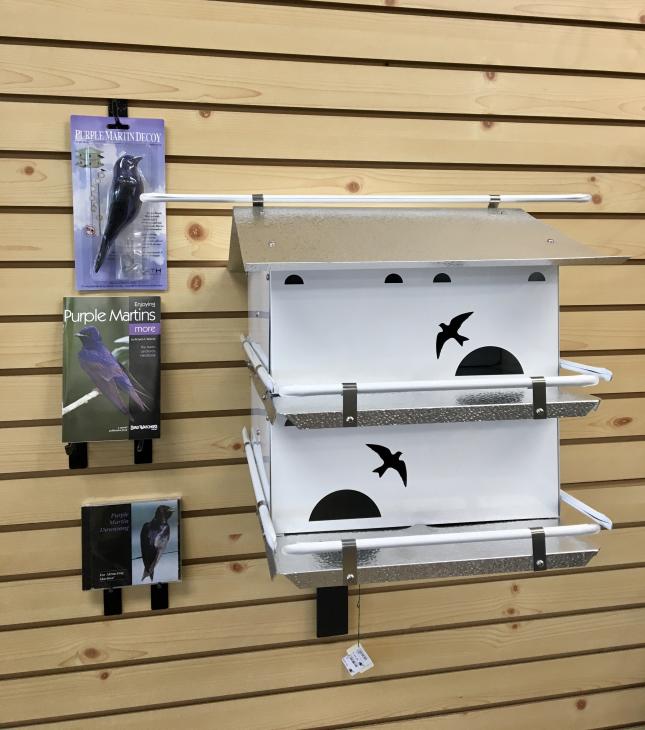 These migratory birds are a pleasure to have! They eat insects, like wasps and other high flying bugs, unfortunately they do not eat the number of mosquitoes that most people assume they do. Martins fly higher than mosquitoes and generally during different times of the day. Purple Martins require 40' of open space around their condo-like houses, but they also like to be within 100' of your own home. They are social birds and love to follow lawn mowers and brush hogs and show off for humans! Houses need to be 12' high or more to appeal to the high flyers. Having a water source near by is a good thing because Martins drink while in flight. Make sure trees do not become overgrown because predator birds, like hawks and owls, hide in them and ambush Purple Martins.
Item numbers :
Purple Martin Decoy : #4529
Enjoying Purple Martins More Booklet : #6602
Dawn Song CD : #4534
WBU 2 Level PM House : #1242
Not Shown :
WBU 3 Level PM House : #1243
WBU 4 Level PM House : #1244
Add A Floor Kit : #1245
Heavy Duty Telescoping Pole : #2510 This is the required pole for any of these houses.
We offer to put PM houses together for a labor fee. 2 Level, $30/ 3 Level, $40/ 4 Level, $50. This is optional.
*Prices and inventory may change. Please call 417-882-8801 to order.*