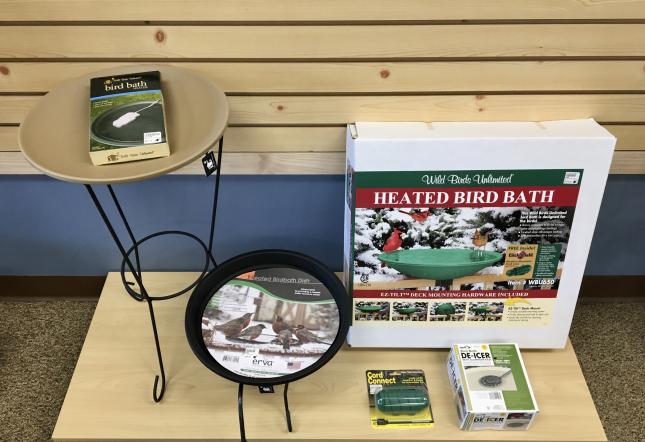 Water in the winter is even more important than during the summer months! In order to keep their feathers clean and fluffy birds must bathe even in freezing temperatures. Having a heated bath or bird bath heater (to place in an appropriate bath) is a great way to enjoy your birds in the cold months.
Pricing from Left to Right and Item numbers :
WBU BB Heater 80 Watt : #W10308 This heater can be used in a small, or plastic dish.
Shown in 14" Tall Dec BB Stand : #2386
14" Stone Plastic Dish : #2262
Heated Dish Only : #5602
Shown in 14" Short Dec BB Stand : #2389
Cord Connect : #085045000055 Use this to cover the connection between extension cords making it weather safe.
Compact De-Icer 250 Watts : #6492 Not safe to use in plastic dishes, it will melt through. Good for larger birdbaths.
WBU 20" EZ Tilt Heated Dish Green : #6490 Comes with Cord Connect and Four Year Warranty. Best heated dish on the market!
*Prices and inventory may change. Please call 417-882-8801 to order.*